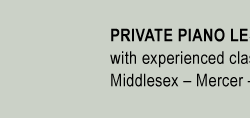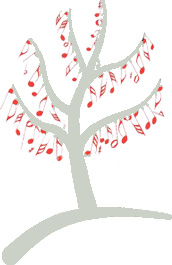 LISTEN
to piano student Jennifer Liu, The First Prize of Piano at the "You Got Rhythm" Young Artists Competition in Philadelphia to Celebrate George Gershwin, 2012 .
The Academy of Vocal Art Recital Hall (Philadelphia).

George Gershwin: "I Got Plenty O' Nutting".
Arranged for the competition by jazz musician and composer Edward Kalendar based in NYC.

YM Piano: News & Announcements
Jun 3, 2012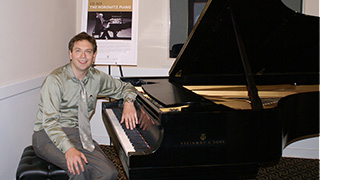 Exclusive opportunity to play on the most celebrated piano of the 20th Century!
Yevgeny Morozov, virtuoso pianist and piano instructor in Central NJ, presented his performance on Vladimir Horowitz's personal Steinway piano numbered CD314503. Russian-born American classical pianist Vladimir Horowitz was widely considered to be one of the greatest pianists of the 20th century, with extraordinary virtuosity and the emotionality of playing. Vladimir Horowitz's personal Steinway for decades traveled the globe with him.

This event was held at Jacobs Music, 1718 Chestnut St., Philadelphia, and re-created Vladimir Horowitz's concert in Paris on June 3, 1932. The same repertoire was played that maestro played on the date 80 years ago. Yevgeny Morozov has performed LISZT's Mephisto Waltz No.1.
May 21, 2012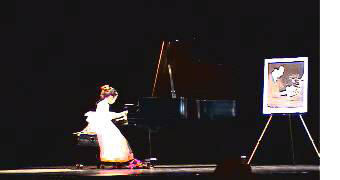 "You Got Rhythm" three-day Festival and Competition for Young Musicians in Philadelphia to Celebrate George Gershwin.
Jennifer Liu, student of piano instructor Yevgeny Morozov since she was 4, won The First Prize of Piano (age 7-11). Jennifer is a 9 years old and this was her first big competition. The competition consisted of two Rounds and took place on May 19-21. Ms. Susan Starr, internationally renowned concert pianist and the Silver Medalist at the 1962 Tchaikovsky Competition was presiding over a jury.

In Round I, young musicians performed in a variety of styles: from romantic pieces to larger music forms. The Round II finalists were required to perform a Gershwin work. More than 40 pianists competed in two rounds. The applications from young contestants have arrived from Pennsylvania, New Jersey, New York, Delaware, Ohio and Massachusetts.

Both the Gala opening and a closing ceremony were held right off the Rittenhouse Square, in the close vicinity of the Curtis Institute of Music. The famed broadcaster Robert Sherman (WQXR's) was hosting the Gala.

We wish the best of luck to Jennifer and hope that this will be just a first step towards a future career in music and other arts!
Read more about "You Got Rhythm" Competition for Young Musicians:
Photo Gallery of YM Piano Studio in Central NJ.
Jan 23 - Feb.5, 2012
The CME NEW YORK PIANO FESTIVAL & ACADEMY. Two intensive weeks of advanced studies:
Faculty: Martin Canin, Pavlina Dokovska, Daniel Epstein, Choong-Mo Kang, Min Kwon, Jerome Lowenthal, Robert McDonald, Solomon Mikowsky, Andre Michel Schub.
Associate Faculty: Yevgeny Morozov, Alexander Beridze, Tanya Gabrielian, Yoonjung Han, Miao Hou, Jenny Diyi Tang, Vladimir Valjarevic.
For further information contact: info(at)CMEmusic.org
December 2011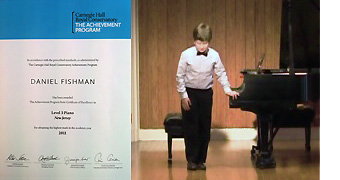 DANIEL FISHMAN, piano student of Yevgeny Morozov, has been awarded The Achievement Program State Certificate of Excellence in Level 3 Piano, New Jersey, for obtaining THE HIGHEST MARK IN ACADEMIC YEAR 2011 !

More about The Achievement Program (which can be fully integrated into Yevgeny Morozov Piano lessons): The Carnegie Hall Achievement Program is an educational collaboration between New York City's Carnegie Hall and Canada''s prestigious Royal Conservatory of Music. The Achievement Program (TAP) provides a recognized national standard and sequenced program for students studying privately, from beginner through advanced levels. It represents an opportunity for students to measure their progress and achievements and allows students to celebrate their musical achievements nationally. In addition, The Achievement Program assessments provide measurable objectives for parents and teachers to better understand a student's musical growth.

Our congratulations to Daniel and best wishes for his future.
Nov 13, 2011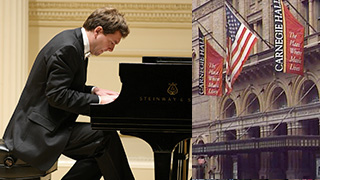 FRANZ LISZT 200th ANNIVERSARY GALA. Yevgeny Morozov performs Liszt at Carnegie Hall's Weill Hall, celebrating the 200th anniversary year of Hungarian composer/pianist Franz Liszt's birth. The Carnegie Hall's tribute concert will highlight works of Franz Liszt, who was the most technically-advanced pianist of his age and perhaps the greatest pianist of all time. The concert is set for 7:30 p.m. Sunday, November 13, 2011. Tickets are available by calling CarnegieCharge at 212-247-7800 or by visiting www.carnegiehall.org
Nov 6, 2011
Marryott Music Bldg (New Brunswick, NJ). Chamber Music Masterclass given by Yevgeny Morozov for Young Artist Program, Mason Gross School of the Arts, NJ. Young Artist Program is a comprehensive program for dedicated students with a desire for advanced and intensive musical training. Young Artists learn from and perform for master teachers, including university faculty members. Workshops, masterclasses, and clinics take place several times each year.
For further information contact me:
call - (267) 241 70 65
Email - e_morozov(at)yahoo.com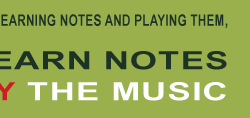 YM Studio Location:
East Windsor, NJ 08512
Phone: (267) 241-7065
YM Piano Studio offers one-to-one private piano lessons with highly skilled pianist and qualified piano instructor in Central NJ.
In-home piano lessons can be taught in Mercer County NJ, Middlesex County NJ, and Monmouth County NJ:
NJ 07751
NJ 08510
NJ 08512
NJ 08520
NJ 08535
NJ 08540
NJ 08541
NJ 08542
NJ 08543
NJ 08544
NJ 08550
NJ 08570
NJ 08816
NJ 08817
NJ 08818
NJ 08820
NJ 08824
NJ 08837
NJ 08844
NJ 08852
NJ 08857
NJ 08899


Contact piano instructor for a FREE trial piano lesson in the studio or discounted trial lesson at any of the locations where in-home piano lessons are available.